Introduction
Let's make this as simple as we can so that people can understand us. Calvinism wishes to totally remove all concept of moral activity for Christians. Say what they may say about holiness, sanctification, and leaving off sinning, the truth of the matter is that their teachings (if believed and followed lead their followers) push people strongly down the road of moral inactivity to a state of spiritual bankrupcy. There is no other alternative if you follow Calvinism. You may not be as advanced as "a 5 pointer", but you are on the same road, no matter what you say or think.
Calvinism teaches that man has no ability to do anything morally acceptable before God. This is the doctrine of total inability. The biblical doctrine of moral depravity (which is in the Bible, and which Calvinism uses to twist it into a monster) has to be limited to and refers to the concept of doing morally good works with which we become acceptable before God, or the concept of "buying our salvation" by doing good works. The Bible teaches that there is nothing morally acceptable before God that a man can do in order to purchase, obtain, or procure his salvation as an exchange of these good works done for the salvation. The Bible does teach this, but this is a far step from the Calvinist's doctrine of total inability.
What we need to carefully sort out is the Calvinist's "bait-n-switch" tactics. First he says that his pillar doctrine is "Total Depravity", but what he really means is total inability, and Calvinist writings abound with the references linking the two to be the same thing. While old Calvinists have carefully not taken all this so far, modern Calvinism fears nothing, and blatantly states that there is nothing good in God's eyes that man can do. Ever.
If you follow carefully the Calvinistic doctrine here, neither before salvation, neither in salvation, neither after salvation, does man have anything that pleases God. According to the Calvinist, he is totally incapable (unable) to please God in any way. This is not biblical. What the Calvinist teaches is that man has nothing within him (ever, even after salvation) that is in anyway pleasing to God. To admit this would be to admit that man has some value, or that man can do something that is valuable to God. The Calvinist pushes its followers to refuse to accept anything anybody does as acceptable by God.
Our Tract Ministry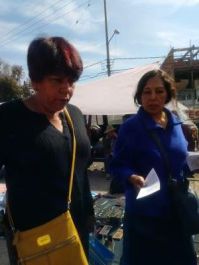 This
page
describes our tract ministry, including tract production (printing and folding). Our ministry is not that big yet, but we continue to grow. We have about 350 Spanish titles and 90 English titles and are adding translations into other languages. Please read this page and pray for this ministry.