Spiritual Abuse
by David Cox
See Related Posts below for some books on Spiritual Abuse
Spiritual abuse is a concept which has been around from time in memorial, but has only been sharply focused on in recent years (most accutely in the 50s-80s in the United States with the great proliferation of Christian cults and sects). The idea before this was basically limited to specific abuse in a specific group by "bad" ministers, such as clergy abuse of minors or women in Roman Catholicism. With the flourishing of Christian cults in the 50s and following, these cults were identified as "abusive" and their tactics were closely analyzed and revealed (so as to protect the innocent).
Later, the same concept was applied in general to many "mainline" churches that used the same tactics to control and spoil their members. Today the concept is basically used of any church, cult or mainline, which manipulates its members in "unacceptable" ways or methods, or for "unacceptable" ends.
I also have a number of excellent tracts (see www.coxtracts.com) that should help you in discerning wolves in sheep's clothing, and in understanding God's rules on this mess so often found in our churches.
General Articles on Spiritual Abuse
(all of these are by David Cox)
Identifying Cults Leadership
7 Signs of abusive Leaders
Biblical Definition of Spiritual Abuse
The difference between Abuse and mistakes – coming
Spiritual Abuse and Why Are Toxic Leaders Allowed to Remain in Power So Long? – coming
This index page is for articles related to Spiritual Abuse. Note that there is a fine line to no difference at all between churches ("good churches") that are abusive and an all out cult.
Articles on Spiritual Abuse
Studies on Pastoral Abuse
Spiritual Abuse Reference Works
The posts here are recommended reading of these books on Spiritual Abuse
Fehlauer, M. – Exposing Spiritual Abuse
Friesen, G. – Decision Making and the Will of God
VanVonderen-Ryan – Soul Repair
Chrnalogar, M.A. – Twisted Scriptures
Ferguson, S. – Discovering God's Will
VanVonderen, J. – Families where Grace is in Place
Lloyd-Jones, M. – Spiritual Depression: Its Causes and Its Cure
Hession – We would see Jesus
Enroth, R. – Recovering from Churches that Abuse
Cloud-Townsend – Boundaries
Bussell, H. – By Hook or By Crook
Tucker, R.A. – Another Gospel
Martin, P.R. – Cult Proofing your Kids
Arterburn, S. – Faith that Hurts, Faith that Heals
Cloud-Townsend – Safe People
Johnson-VanVonderen – Subtle Power of Spiritual Abuse
Burks, R. – Damaged Disciples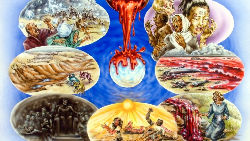 Why so many Crises Today? by Pastor David Cox is a post on how Satan uses today's crises (which are not real crises, but fake crises fabricated by Satan to deceive) to control and bring men under his dominion.
Excerpts
But Satan will now "have his reign" unhindered. How will he get almost all of earth's inhabitants to worship him? Through crises that supposedly there is no other way than Satan's way to "fix what is wrong". This analysis of what is a problem plus how to best fix that problem is the key to Satan's strategy. What we are seeing in our present generation is the preparation of this plan of Satan to take over the world...
The idea of God "creating evil" (Isaiah 45:7) is that God creates adversity. Things which go astray from man's best plans. No man plans to have cancer, but God does send adversity man's life (for example, Job). The book of Job points out how God proposed to Satan to try Job with sickness. It was for God's glory, because God begins everything with "Job is just", so Job had no spiritual problem in himself that caused this sickness and crisis of every kind on Job. Just the opposite. Job was just. God declares to us this fact...See Why are there so many Crises Today?