When we examine true Christianity and false cults and sects within Christianity's broad umbrella, we insist that whatever doctrinal statements a group has or approved and exhorted conduct a group gives, it cannot contradict the Bible. God is obliged to be consistent in his statements to men. He cannot change the standards from one moment to the next. If stealing is a sin in God's eyes, then always it is. There may be some conditions whereby this concept is clarified, but we must hold the principle true. For example, if a man steals from his neighbor and is caught, he has to return what he has stolen four-fold. The principle is that the extra is a punishment for having stolen in the first place, and this is not the authorities "stealing from him" in God's eyes, but doing what is just and fair.
Dt 13:1 If there arise among you a prophet, or a dreamer of dreams, and giveth thee a sign or a wonder, Dt 13:2 And the sign or the wonder come to pass, whereof he spake unto thee, saying, Let us go after other gods, which thou hast not known, and let us serve them; Dt 13:3 Thou shalt not hearken unto the words of that prophet, or that dreamer of dreams: for the LORD your God proveth you, to know whether ye love the LORD your God with all your heart and with all your soul. Dt 13:4 Ye shall walk after the LORD your God, and fear him, and keep his commandments, and obey his voice, and ye shall serve him, and cleave unto him.
God warns us to avoid and reject "prophets" who propose doctrines and practices that are not officially approved in the Bible. Now for the Christian, there is no problem here. Christians do not accept the Koran as a book that is an authority from God. But for Muslims, this is a grave problem. They hold the Bible as a holy book, that is true. So when the Bible and the Koran enter into conflict, this causes a great problem for a Muslim (or at least it should).
Bible's Version
Islam's Version
(Genesis 39:7-21, KJV) 7 And it came to pass after these things, that his master's wife cast her eyes upon Joseph; and she said, Lie with me. 8 But he refused, and said unto his master's wife, Behold, my master wotteth not what is with me in the house, and he hath committed all that he hath to my hand; 9 There is none greater in this house than I; neither hath he kept back anything from me but thee, because thou art his wife: how then can I do this great wickedness, and sin against God? 10 And it came to pass, as she spake to Joseph day by day, that he hearkened not unto her, to lie by her, or to be with her. 11 And it came to pass about this time, that Joseph went into the house to do his business; and there was none of the men of the house there within. 12 And she caught him by his garment, saying, Lie with me: and he left his garment in her hand, and fled, and got him out. 13 And it came to pass, when she saw that he had left his garment in her hand, and was fled forth, 14 That she called unto the men of her house, and spake unto them, saying, See, he hath brought in an Hebrew unto us to mock us; he came in unto me to lie with me, and I cried with a loud voice:

15 And it came to pass, when he heard that I lifted up my voice and cried, that he left his garment with me, and fled, and got him out. 16 And she laid up his garment by her, until his lord came home. 17 And she spake unto him according to these words, saying, The Hebrew servant, which thou hast brought unto us, came in unto me to mock me: 18 And it came to pass, as I lifted up my voice and cried, that he left his garment with me, and fled out. 19 And it came to pass, when his master heard the words of his wife, which she spake unto him, saying, After this manner did thy servant to me; that his wrath was kindled. 20 And Joseph's master took him, and put him into the prison, a place where the king's prisoners were bound: and he was there in the prison.

Qur'an 12:21-34, 21. And the Egyptian who bought him said to his wife: Give him an honorable abode, maybe he will be useful to us, or we may adopt him as a son. And thus did We establish Yusuf in the land and that We might teach him the interpretation of sayings; and Allah is the master of His affair, but most people do not know. 22. And when he had attained his maturity, We gave him wisdom and knowledge: and thus do We reward those who do good. 23. And she in whose house he was sought to make himself yield (to her), and she made fast the doors and said: Come forward. He said: I seek Allah's refuge, surely my Lord made good my abode: Surely the unjust do not prosper. 24. And certainly she made for him, and he would have made for her, were it not that he had seen the manifest evidence of his Lord; thus (it was) that We might turn away from him evil and indecency, surely he was one of Our sincere servants. 25. And they both hastened to the door, and she rent his shirt from behind and they met her husband at the door. She said: What is the punishment of him who intends evil to your wife except imprisonment or a painful chastisement? 26. He said: She sought to make me yield (to her); and a witness of her own family bore witness: If his shirt is rent from front, she speaks the truth and he is one of the liars: 27. And if his shirt is rent from behind, she tells a lie and he is one of the truthful. 28. So when he saw his shirt rent from behind, he said: Surely it is a guile of you women; surely your guile is great: 29. O Yusuf! turn aside from this; and (O my wife)! ask forgiveness for your fault, surely you are one of the wrong-doers. 30. And women in the city said: The chief's wife seeks her slave to yield himself (to her), surely he has affected her deeply with (his) love; most surely we see her in manifest error. 31. So when she heard of their sly talk she sent for them and prepared for them a repast, and gave each of them a knife, and said (to Yusuf): Come forth to them. So when they saw him, they deemed him great, and cut their hands (in amazement), and said: Remote is Allah (from imperfection); this is not a mortal; this is but a noble angel. 32. She said: This is he with respect to whom you blamed me, and certainly I sought his yielding himself (to me), but he abstained, and if he does not do what I bid him, he shall certainly be imprisoned, and he shall certainly be of those who are in a state of ignominy. 33. He said: My Lord! the prison house is dearer to me than that to which they invite me; and if Thou turn not away their device from me, I will yearn towards them and become (one) of the ignorant. 34. Thereupon his Lord accepted his prayer and turned away their guile from him; surely He is the Hearing, the Knowing.

Potiphar wasn't home.
Potiphar didn't believe Joseph
Joseph was unjustly imprisoned
Bible says Noah's sons were saved.
Bible says Abraham left after his father's death.

Potiphar was at the door when Joseph fled
Potiphar believed Joseph
Joseph requested to be put in prison to avoid temptation
Qur'an says that Noah's sons died in the flood
Qur'an says Abraham's father forced Abraham to leave for trying to teach monotheism.

Attitude towards enemies:
Matt 5:44 But I say unto you, Love your enemies, bless them that curse you, do good to them that hate you, and pray for them which despitefully use you, and persecute you;

The Bible's attitude is totally opposite of Islam's attitude towards enemies.

Attitude towards enemies: The Qur'an, Qur'an 2, The Cow, Al Baqarah Ayah 190. And fight in the way of Allah with those who fight with you, and do not exceed the limits, surely Allah does not love those who exceed the limits. 191. And kill them wherever you find them, and drive them out from whence they drove you out, and persecution is severer than slaughter, and do not fight with them at the Sacred Mosque until they fight with you in it, but if they do fight you, then slay them; such is the recompense of the unbelievers.



So in the end, this is an either or situation. You either believe the Bible, or you believe the Qur'an (Koran). If you believe the Qur'an, they say they believe the Bible also. This makes it impossible to be consistent with one's self.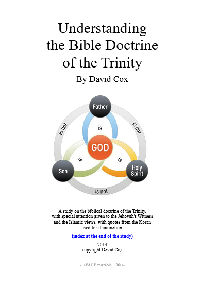 Cox A Study on the Trinity is a short 32-page work on the Trinity with special attention applied towards Muslims and Jehovah's Witnesses. Chapters: 1. God is One Monotheism. | 2. Why God is one, but has to be three persons in that one God: Love needs three people. | 3. Other Consideration that God has to be three persons. | 4. God the Father is God | 5. Jesus is God | 6. The Holy Spirit is God. | 7. Unacceptable explanations of the Trinity. | 8 Conclusion. Alternate Download Site: Christian-kindle-library.com