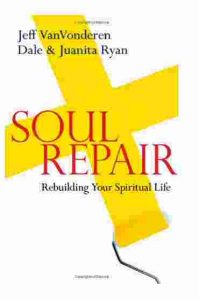 Soul Repair: Rebuilding Your Spiritual Life, Jeff VanVonderen, Dale and Juanita Ryan. The authors don't pretend to have a silver bullet for spiritual malaise, but they give a lot of tools to use to rebuild a relationship with God – very thought provoking. This book is must-read if you are recovering from spiritual abuse!
This is a recommendation of Vanvonderen-Ryan's work on Soul Repair. This book explains how to recapture spiritual health after a cult.

pc81 Healing in the Bible We investigate what is a sane and biblical outlook towards healing in the Bible, a non-Pentecostal view. We look at Hezekiah's case, the 10 Lepers healed by Jesus. God totally controls sickness.
Job 5:18 For he maketh sore, and bindeth up: he woundeth, and his hands make whole.
Deuteronomy 32:39 See now that I, even I, am he, and there is no god with me: I kill, and I make alive; I wound, and I heal: neither is there any that can deliver out of my hand.
Micah 6:13 Therefore also will I make thee sick in smiting thee, in making thee desolate because of thy sins. God makes us sick because of our sins.
Sin is the first cause and last curse involved in sickness.
We examine cases of God healing, and exhortations to pray over the sick.