Martin Heresy of Mind Control is a reference to a book on Cults and recognizing them through their leadership styles.
Online book The Heresy of Mind Control: Recognizing Con Artists in Leadership, Stephen Martin, M.Div,, online book. Written by Dr. Paul Martin's brother, this 169-page e-book shows how "wolves in sheeps' clothing" use Lifton's 8 elements of mind control to create Christian totalism.
What is Mind Control?
When we talk about "mind control", we need to understand the wrong influence and the right influence within the church. Some people are simply followers, and whatever the majority, or the popular view is on something, or whatever the pastor declares as "what we are doing now", that is what they do. They do not think for themselves, and they have a hard time reasoning with Scripture.
Those false prophets or bad pastors will try to control the minds, lives, and especially the pocket books of their people.
The Priesthood of the Believer
The Bible presents the Old Testament priests as an intercessor between themselves and God. They also intervened between other people and God. These OT priests went to Christ to fight in defense of these sinners. In the New Testament, we only have Christ. Each and every one of us are interceding for ourselves, our families, and others (especially those of their own family of faith, the church).
Today we should understand (individually) the principles of Scripture and be able to exhort others, guide our own lives, and pray in intercession.
The fact that Christians today cannot understand Scripture for themselves without a "pastor" explaining it to them is very bad. It denies that the Bible is for everyone. It denies that the Holy Spirit will open understanding to each Christian on a personal level.
When some Christian is a slave to knowing God's will because he has to go to his pastor and ask permission, that means we are basically inept children that cannot do anything for ourselves.
More Articles from Spirit Abuse Reference Category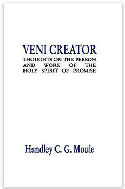 Moule Veni Creati is an old, well known work in studies in the Holy Spirit by Bishop (Anglican) H.G.C. Moule. It has 12 chapters. It is a deep treatment of the Holy Spirit. Although Moule was Anglican, his writings are well written and good.
Downloads:
theWord: Moule Veni Creati
MySword: Moule Veni Creati
ESword:Moule Veni Creati
Adobe Acrobat PDF: Moule Veni Creati